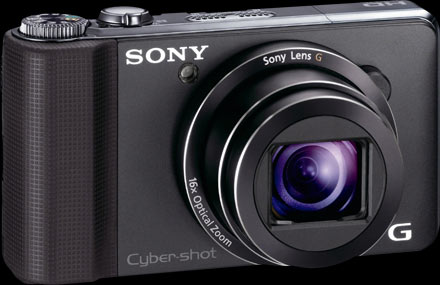 One of the newest point-and-shoot cameras to hit the market is the Sony Cybershot DSC-HX9V. It was so new, in fact, that the first 2 stores I went to to get it didn't have any except the floor model-even though those stores were advertising it and said they had it in stock (what they wanted to do was get me into the store to buy it with a promise to deliver-that doesn't fly in my book).
Anyway, I am not going to bore you with the a lot of the the mundane technical details regarding the camera, because 1) if you are reading MY blog you probably wouldn't care about all those details and 2) if you did understand them you may not care. You might be just interested in weather this is a good camera or not. Read on for my conclusion.
So, first of all this is not Sony's flagship camera despite its price tag of $350. That honor is reserved for the
Cybershot DSC-HX100V, but this camera is the highest-end camera Sony is releasing in its traditional all-in-one body. The HX9V is powered by en Exmor R CMOS sensor chip and boasts an impressive 16.2 megapixel resolution.
Sony claims that the camera has a 16X optical zoom. In my test, this was plenty for the everyday snapshot, but failed to offer sufficient zoom in my sports test. I felt that the zoom was very sluggish but from what I understand Sony will fix this with a firmware update.
The LCD screen in the back measured 3 inches-sufficient for most shooters. I used the camera in bright sunlight and found that the resolution and brightness to be wonderfully sufficient to see what I was doing (there is no viewfinder on this camera). The LCD is not a touch screen so all changes must be managed through the click wheel on the back.
One nice feature that this camera offers is the "panoramic" function which gives shooters the ability to capture almost a 180-degree field of view without having to work about stitching them together in Photoshop or other imaging program-the camera did that automatically!  A couple photographs that I took with this camera are at the bottom of the post.
I found that the various picture settings were easy to navigate through and the camera provided good jpeg (JPG) image all around if you let the camera focus before you take the photograph (being a sports shooter I am always trying wanting to snap the camera before it was ready-my problem not the cameras). The scene settings were very easy to understand and dial in. But like with everything else, read the manual before trying to change the settings to something you don't fully understand. And for the more advanced shooters, there is enough manual control to keep you happy.
One of the primary reasons I wanted to try this camera out was for the video function and in a word: adequate. Keep in mind that I am also a professional video shooter and editor so I was primarily interested in exporting the video out of the camera so I can edit it and then export my edited videos to DVD or other formats. So, let me rephrase with a couple more words: great for the everyday shooter. But use a tripod or your video will be as shaky as my examples below.
This camera shoots at 1920×1080 and smaller formats so the picture is crisp and clear. The colors were bright and vibrant and the audio was good. Sony's website claims the video format at MP4, but it really shoots AVCHD. That allows for greater compression, thus saving memory space on the card and allowing for more photo's and/or video. However, AVCHD minimizes what the user can do with it.
I was able to pull the video right off the memory card and upload it to Youtube (Test 1 below) and Facebook without any problems whatsoever. I was also able to use the software that Sony provides with the camera to upload directly to Youtube (test 2) but the software truncated the clip and did not upload it in its entirety (the girl wearing the #6 black shirt actually scores at the end of the clip).
In using the software that comes with the camera I was able to burn my clips directly to a DVD from a Windows based PC,  but that function does not exist on a Mac (Sony may address this in future updates). In fact, I couldn't do anything with the clips on my Mac. I couldn't play them, I couldn't convert them to a more usable format, import them into my video editor-nothing. I did not try any of that on my PC as I was so frustrated with the lack of Mac functionality with the video that I gave up.
And for what its worth, I did not use one of Sony's propriety memory cards that the clerk was pushing on me. I purchased a high-speed 8 gigabyte SD card as an alternative and saved myself a few bucks. I didn't have any problems with the SD card, but would have loved to run a comparison nonetheless.
So in conclusion, I thought that this was a very good camera and offered shooters a lot of flexibility to take some very nice photographs without having to step into the DSLR world. It may be a little bit on the pricey side but certainly worth the extra few dollars to get the extra functions. Don't buy the camera for video function and if you don't need Sony's bundled software to transfer your photographs to your computer then don't use it.
Video Test 1 (direct upload to Youtube)
Video Test 2 (upload to Youtube using Sony software)