Today, I have a guest blogger writing for me. I would like to introduce Anna K. from Simply Bridal to offer our readers some commentary on engagement photography.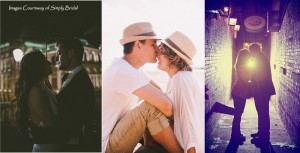 ——————————————————
We love engagements photos because they are the most relaxed wedding shoots you will encounter during your wedding journey. That's because they show the bride and groom in their most relaxed state with the person they love. Now, brides and grooms have a choice of having their engagement photos done during any time of the day or night. However, selecting when to have your picture taken can be difficult. Have no fear though because we're going to help you decide.
Choose a daytime shoot if…
You love the outdoors. Outdoor shots work best during the daytime. They are also particularly good if you plan on showcasing any activities on your photo shoot.
You are a traditionalist. Your wedding is going to be by the book, right down to the engagement photos. After all, Grace Kelly's engagement pictures were taken in the light and who are you to argue with a princess?
Choose an evening shoot if…
You're a city dweller. Bright lights plus big city equals a great backdrop for a night-time shoot. We love to see pictures taken with the city's lights used as a backdrop. There are very few engagement photos that can compete with the lights and sights of London, Chicago or Paris.
You're trendy. Very few engagement photos are taken and night, so the couples that opt for this style of pictures are ahead of the curve. Don't be surprised if you find these photos better suited for an art gallery than a wedding album.
Mix and Match if…
You love to tell a story. Another big thing in engagement photos is storytelling. This is when couples use their shoot to tell a story over the course of a day. For the best effects, a mixture of daytime and night-time shots should be used to show a natural progression of your story.
Engagement photos are the first chance couples have to show the world who they are as a couple. Yet, deciding on what kind of photos are right for you is easier said than done. One thing is for certain, whichever you choose, be sure you love it as much as you love each other.
—
SimplyBridal.com is an online retailer of wedding gowns, bridesmaid dresses, and bridal accessories. Based in Los Angeles, California, we now ship to 25 countries in North America, Europe, and Asia Pacific.